Only a few doors down from us on Pender Street, fire is burning in the Daisy Garden.  At noon I joined hundreds of onlookers and took this photo.  I thought it was a hilarious testament to New Town's baking that people were still lining up for treats as firemen broke down the doorway nextdoor.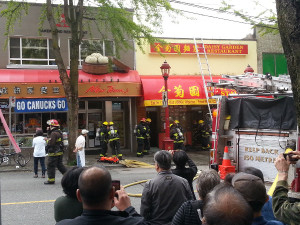 I went home to have lunch with my sweetheart, fully expecting that I'd be back at STRETCH in a couple of hours, airing out any lingering smokey smells, and welcoming guests for Chris's 5:30 Rocket Class.
When I got back to the studio around 4pm the fire was raging.  Getting into STRETCH meant ducking under Fire Tape and breathing through my toque.  I caught the attention of a fire marshall on the street and he thought it would be hours before the fire was out.  There would be no classes tonight and cancelled yoga classes are a miniscule aspect of the influence of this fire.
Tonight at home online, I've learnt that nobody was hurt, but the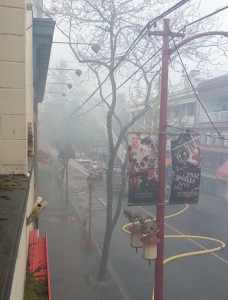 neighbouring business, including our friends at New Town Bakery  and Eden, have suffered serious damages.
Tomorrow will be business as usual for STRETCH but life for the hundreds of workers and owners of these three businesses will be drastically different.  Even if they have insurance, there will be deductibles, lost shifts, income, and some may have to find new jobs.  The only certainty, is that there is uncertainty in store for them all this week.